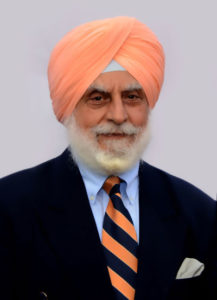 S. Satyajit Singh Majithia
President
Khalsa College Charitable Society (KCCS) Amritsar, is successfully running 19 educational institutions including the oldest Sikh institute; Khalsa College, Amritsar. The society is committed to provide value-based, forward-looking, modern education to build a just society. We are soon setting up a Khalsa University, Amritsar, to impart best technical and scientific education to students worldwide.
S. Rajinder Mohan Singh Chinna
Hon. Secretary
Khalsa College Charitable Society (KCCS) Amritsar is committed to provide best of the technical and professional education to society and inculcate amongst us message of peaceful co-existence, universal brotherhood as envisaged by Sikh Gurus. We are proud of our oldest Khalsa College and our new institutions. The Khalsa UIniversity has been Set up. Send your children to us as we have build a civilization and will continue doing so.
Dharminder Singh Rataul
Deputy Director, Public Relations
A former well-known print Journalist, Dharminder Singh Rataul is Master in Philosophy (M.Phil) in International Relations from Jawaharlal Nehru University(JNU), New Delhi. He is Postgraduate in Journalism and Mass Communication with more than 15 years' experience of mainstream journalism. He started his career with national daily The Indian Express as Reporter in 1997 and rose to become Special Correspondent. Did hundred of stories/articles which were published in various publications including the BBC Hindi Service. Headed Shimla Bureau of The Indian Express from 2002-2005. Rataul also worked for Tara Punjabi, a TV channel having collaboration with The Indian Express Group in 1999-2000 for news coverage. He has been commentator on various programs at Doordarshan, Jalandhar. He was part of the team that unearthed the Petrol Pump Scam during the regime of Atal Behari Vajpayee as PM and was one of the first Reporters to unearth the story of Indian prisoner in Pakistan jail Sarbjit Singh who was condemned to death. Having interest in International Relations, Current Affairs, Wildlife he specializes in Media Management, Education Management and is an avid Speaker on subjects of International Politics and Social Media.